Week 3 Science Of Exercise

Fitness and performance
Endurance training
When you regularly exercise, body will adapt. 3-5 times a week, for few months.
Adaptations depend on - frequency, intensity, duration, and type of exercise.
Frequency

Don't be a weekend warrior when it comes to exercise.
3 to 5 days a week is ideal.

Intensity is most important when it comes to adaptations.

Use heart rate monitors.
Intensity should be 50-85% of heart rate reserves.
(heart rate reserve/100) * (max HR 210 - resting HR) + Rest HR
Max HR = 220 - age
For me to train at 85% HR reserve: 85%/100 * (220 - 37 - 66) + 66 = 165 bpm
For me to train at 85% HR reserve: 50%/100 * (220 - 37 - 66) + 66 = 125 bpm

Duration

20 to 60 mins of exercise.

Type or mode

Should involve large muscle groups.

A training program should have

Designated recovery days.
Designated hard training weeks, followed by recovery weeks.
Start with low intensity, lower duration and gradually increase both.
What happens when you stop training.
Reversibility - all adaptations will be reversed with time once you stop training.
Reversal of various adaptations is quite fast and will occur within weeks after training is stopped.
Strengh training
Strength training adaptations depend on - frequency, intensity, number of repetitions per set, and number of sets.
After a period of strength training, output plateaus, factors affecting it

Physical activity
Nutrition
Genetics
Endocrine influences
Nervous system
Environmental.
Growth hormones such as testosterone.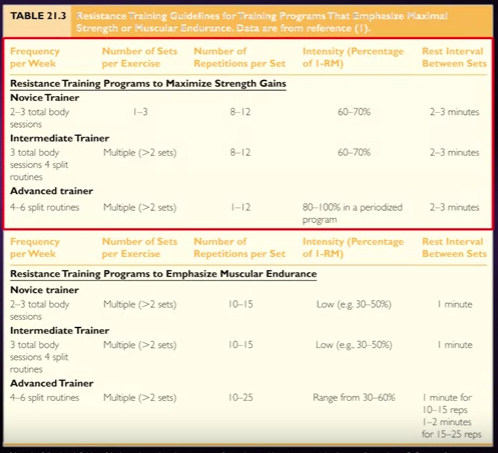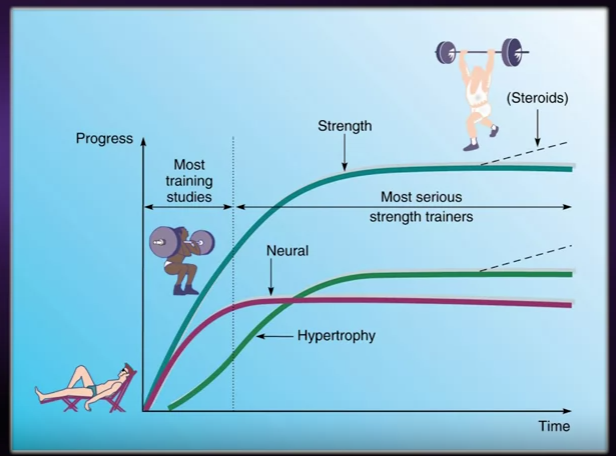 Differences for men and women in strength training.
Men have more muscles and larger cross sectional areas.
A man and a woman having same muscle mass can generate same amount of power and force.
Due to very large quantities of testosterone (20-30 times), amount of muscle gain in men can be much higher.
Nutrition for training
How much to eat?

Endurance - weight stable.

What to eat?

Endurance

Increasing carb stores.
55-60% calories from carbs.

When?

Takes 24 hours to replenish carb stores.
First 1 to 2 hours post exercise.
Pre-competition meal -

2 to 3 hours prior - reduces blood requirements of digestive system and stabilizes glucose level
300-500 calories, high in carbs.
Causes Of Muscle fatigue
Muscle fatigue is inability to maintain output required during exercise.
Common causes are located in the muscle itself.
For Endurance exercise

Depletion of carb stores.
Calcium levels
Body and muscle temperature.
Causes of muscle soreness
During prolonged isometric contraction, blood flow to the muscle can be shut down, reducing oxygen flow.
This results in creating ATP anaerobically, producing acids. These acids when released into blood stream cause localized burning and pain, which subsided quickly.
Cramps - no clear reasons are yet established.

Theory 1 - electrolyte imbalance.
Theory 2 - bug in neural wiring.
Can be solved using salts, fluids, massage and ice packs.

Muscle soreness which starts hours after the exercise is caused by eccentric contraction, when muscle is stretched.
These contractions causes micro tears in the muscle fibers leading to inflammation, weakness, tenderness, and pain.
Damaged sarcomere (muscle tissues) are replaced with healthy.
Subsequent exercise with same intensity with cause lesser pain.
Performance enhancing drugs
Blood doping - inject your blood cells before a competition.
---