Week 3: Successful Negotiations

Getting To Know The Other Side
Understand negotiation style of other side.
Very important in cross cultural negotiations.
Conversation intelligence.

Dont talk too much, so avoid your favorite topics.
Ask a lot of questions, people like to talk.
Listen.
Power In Negotiations
Information is the biggest source of power.
Information about the other side's BATNA is critical.
Dont share your BATNA if it is weak.
Try to weaken the BATNA of other side.
Strengthen your BATNA.

In some cases you can form coalitions to strengthen your BATNA.
Psychological Tools
Mythical fixed pie assumption - out interests are in conflict with other side.
Anchoring - who comes up with first price?

If value is uncertain - let other side come up with first price.
If value is certain - set first price to anchor the negotiation
In case of stalemate - use similar deals as a way to break it

Overconfidence

Makes you select a narrow range when calculating ZOPA.
Try to use disconforming evidence.

Framing

When we have a positive choice, a gain, we are risk averse.
When we have a negative choice, a loss, we are pro risk.

Availability

We are influenced easily by information which is (easily) available.

Escalation

Look at negotiation from other side.
Competitive Arousal

Causes - intense rivarly, time pressure, spotlight.
Avoid - limit role of intense neogitator, manage time, spread responsibility.

Reciprocity - helping the other side is useful.
Contrast Principle

We compare an option with other available options, not on it own.
So good idea to show some really bad options, so the option you want to sell becomes much more attractive.

Big picture - dont get lost in the details.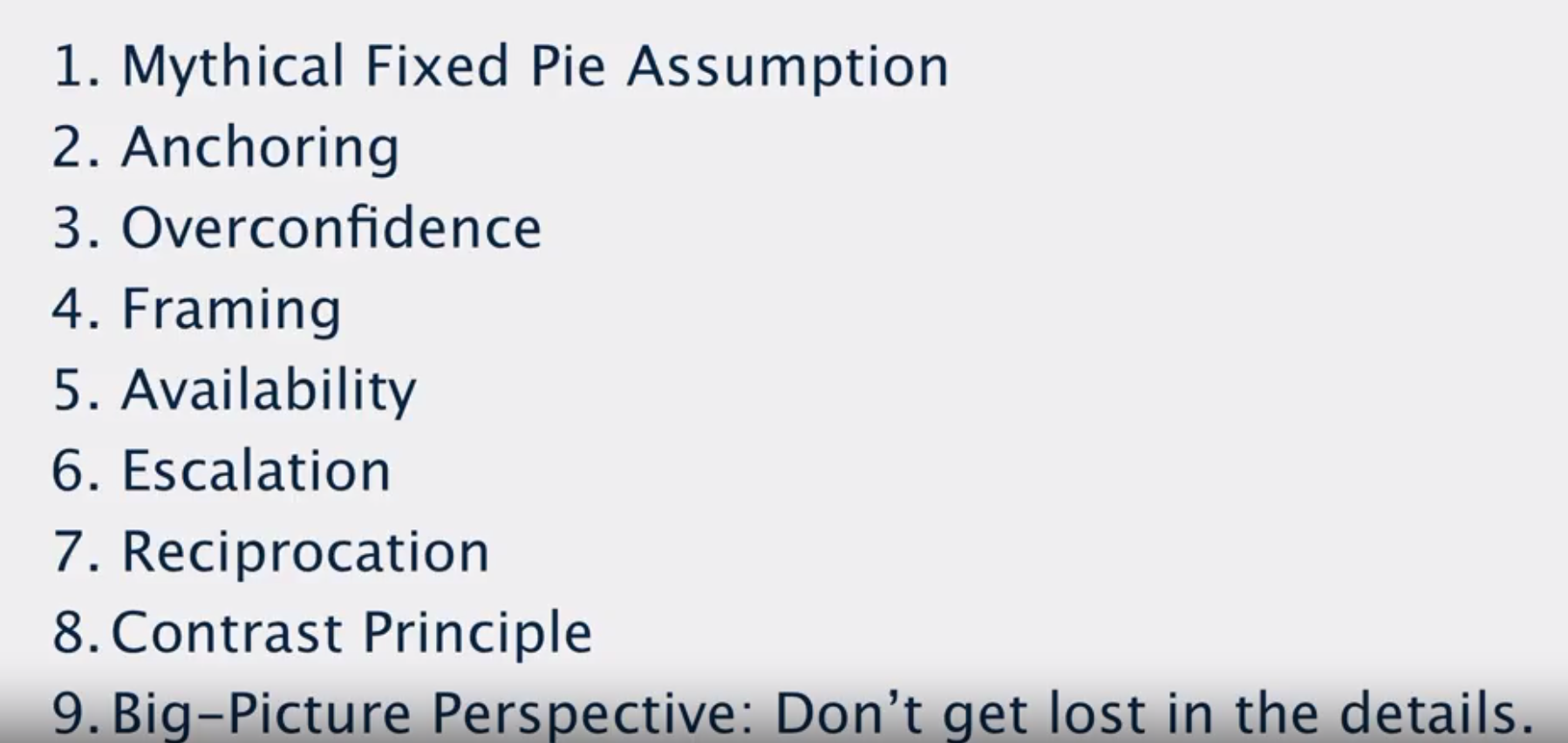 ---