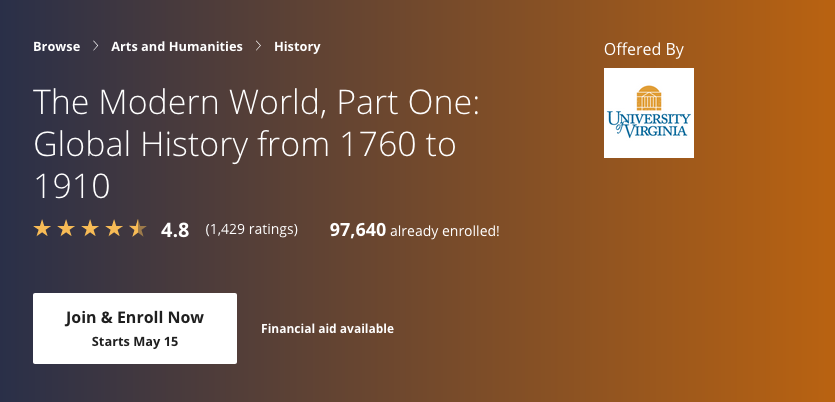 Second Industrial Revolution
Driven by chemistry
Machines to make other machines is the biggest change.
Mass produced machines start having impact on common men and women.
Electricity!
Large corporations start becoming common as pace of industrialization quickens.
Large population migration to cities, start of rapid urbanization in US, Europe and other parts of the world.
Mass produced consumer products, like coca-cola, which are sold everywhere in the country and world.
Pharmaceuticals, surgical machines, x-rays, and may other advances in healthcare products.
Manufacturing needs raw materials, which leads to mining frenzy.
Universities, private and government funded, leading the pace of research and development.
The speed of - Problem->Solution->Problem quickens.
Modern Capitalism
Gold standard

Starting with Britain, increasing number of countries adopted gold standard and standardized money.
Money exchange rates stabilized, giving acceleration to international trade.
Gold rush in South Africa, Alaska and other parts of the world.
Banking institutions such as insurance, trade exchanges, bonds market became common.

Large corporations

Assembly lines made it possible to make products, extremely cheaply with out requiring craftsmanship.
Factory towns in all over United States which produced machine made products.
Limited Liability companies.

Industrial society

Universities
Police
Doctors
Professional services - advertising, typing, marketing.

As a response to increasing power of large corporations, workers started unions.
Food Manufacturing and processing became big industry to support increasingly urban population.
Safe seas made world trade much more reliable.
World trade grew 400% from 1890 to 1910.
Modern political systems
Modern cities are faced new kinds of problem, living conditions, wages, working conditions.
Size of modern cities, spread of newspapers enable rise of modern political parties which have millions of members.
Politics breaks away from only elite class and is becomes an important aspect of lives of common citizens.
Various violent protests across Europe and US by anarchists.
Many political ideologies gain widespread support.
National Traditional - religious, want to maintain established order, racial and ethnic. Rural containing farmers, landowners.
National conservatives - secular, pro big business, strong national governments, protectionist, modern military. Supported by new professional class.
Liberals - limited/weak national government, individual liberty, secular or Christian, pacifist, anti empire, free trade and free markets, equal rights to women. Supported by small farmers, small businesses.
Democratic socialism - strong national government, against big business, secular, workers rights, unionists, pacifist,
Revolutionary socialists - against existing order, against military and police, secular, direct (violent) action, strikes, marxists, internationalist.
Political wars
All over the world status quo is being challenged.
China - empire falls, giving way to a republic led by conservatives.
Russia - After being defeated by Japan, peasants rebel. Empire survives, but is now considering reforms and adopting a constitution.
Spain, Mexico, Ottoman empire all under go political upheavals resulting in change in political systems.
Governments are forced to adopt more libertarian values as a result.
1890 to 1990 (end of cold war), the hundred year wars, is defined by struggle about how to organize modern nation states.
---